Slant Robotics was founded by Gabe Bentz with the goal to create a a robot that is useful everywhere. Jerry is the achievement that goal. While there will be intermediary steps to giving Jerry the abilities that everyone imagines in a robot, Slant intends to have a fully functional home version ready by 2017. Until then Jerry will be released to educational institutions and developers so that a greater software ecosystem can be created.
Slant wants to bring robots into the home. We are working to decrease cost and cleverly engineer software so that that will be a reality.
Powered by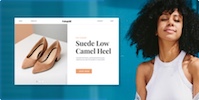 Create your own unique website with customizable templates.