Social robots are kind of the hip thing to build in the robotics industry today. Home assistants such as Jibo are intended to become the interactive hub of our houses.

But social robots are really not robots as most conceive of them. They don't perform work inside of a home or even move around, in some cases. This is because they are intended to interact with us. To be a friend and information resource, with a bit of personality.

When social robots are viewed not as robots, but as interactive machines, then their application and potential shows through. It recalls Steve Jobs' requirement that the Mac appear to have a face so that is would be a friendly computer. Social robots take that idea to the extreme.

In a mobile world, social robots may bring back the waning desktop computer. They are a computer that has eliminated the keyboard and mouse and works with you as seamlessly as a person would (or at least that is the goal). You speak to them and they give you visual and physical feedback. Social robots create a level of experience beyond the one sided conversation with a keyboard.

Normally, social robots do not appear to be that impressive. They are basically a smartphone on a stand. Their inability to take physical action on the real world makes them appear to be less than robots. But when you move away from the body and instead look at the brain/computing side, then they are a quantum leap in UX design.

Social robots are not meant to transform robotics, but they can and will transform computing. At least until AR comes far enough along.

Powered by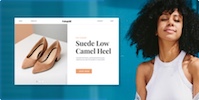 Create your own unique website with customizable templates.