Prosthetics are one of the most challenging and humanitarian fields of robotics. Having to create a replacement body part is an ongoing challenge. The human body is so mechanically perfect that we are still far from being able to completely replace parts that have been lost.

Another challenge to add to this is cost. First the most expensive prostheses don't match a normal human arm in any way technologically. But the least expensive arms are in the range of tens of thousand of dollars. But this is getting better.

Here are videos of several different design methodologies and technologies being used in prosthetic design.

Powered by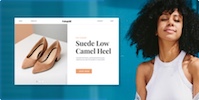 Create your own unique website with customizable templates.