Robotics companies don't get that much attention when compared to organizations make a new smartphone. But these small sleeping dragons are going start rising up very soon.

Bossa Nova Robotics

was founded in 2005 and began by making robotic toys. But more recently BNR has branched into making practical robots. The first attempt they made was announced in 2012 with the Mobi robot. Mobi was a robot who's means of locomotion was balancing on a ball, a bit like a Segway but several dimensions more difficult to achieve. Mobi was intended to be a guide and interactive assistant in areas like airports, where Mobi's small footprint and agile design was superior to more traditional designs.

More recently BNR has revealed a robot for work in supermarkets. This is a unique and very viable application of robotics technology since Supermarkets are large and and consistent. The robot's task is to scan barcodes and keep track of inventory. If you as a shopper need to find an item, then the robot can lead you to it.

The design of this new robot is very similar to Jerry. It uses a differential drive system and is tall and thin. But BNR's robot is so tall that it appears to be very near unstable.

But BNR is working an area that few others have tapped. Supermarkets are just one step down from warehouses. Robots can easily begin to take on tasks in these kinds of semi-defined environments.

​
Powered by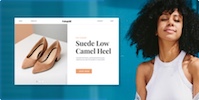 Create your own unique website with customizable templates.