3D printing used to always be in the news. Startups, corporations, individuals all seemed to be jumping on the new age of additive manufacturing. But with all of that, 3D printing has started taking second fiddle to AR, VR, and drones.

Now this has happened for several reasons. The first is that the market has become so inundated with 3D printers that they are practically commoditized now. (You can assemble a decent machine yourself for $300) Next, a 3D printer is a fairly long term investment. For the average user, a little maintenance will make it last several years. And they don't naturally go into obsolescence, unless you just want more features like multiple extruders.

But the primary reason 3D printing has sort of lost its charm is that is never lived up to the idea of "A printer in every home." And why would it. When you can get anything you want delivered to your door with a click of a button and nearly in the same day, why would you want a relatively expensive machine that can just print plastic soldiers for your kids and the occasional kitchen hook?

So printers have been relegated to being used for prototyping. Which is where they excel. But it is not the mass market that many had dreamed of.

But even though the original mission of 3D printers doesn't seem to be panning out, there are alternatives that might make them viable in manufacturing. To make an analogy, printers might be better as servers than personal desktop boxes.

Slant recently

launched the LittleArm

. An entirely 3D printed STEM kit to teach robotics and programming. There were multiple reasons that we decided to

manufacture

our arms using 3D printing, an unprecedented decision. The primary one is that it is technologically impossible to create what we created without using 3D printing.

Printing offers many mechanical advantages from other materials science directions. Generally when someone designs a mechanism's materials there are only two vantage points. Large scale macroscopic, where you create trusses and beams, and microscopic, where you design the atomic and chemical composition of a material.

3D printing has made it possible to fill in the middle-ground with very small macroscopic design. We can easily create a truss that is a few millimeters large and make it hollow. We can create a machine that is perfectly efficient with material because all if it is used to perform a purpose, not fill space. You can create parts with a honeycomb pattern inside. You can create literally any shape without major consideration for manufacturability.

3D printing also moved mechanical design nearer to software design, where changes can be made and implemented immediately, and there is no necessity for inventory. As a server farm fills customer needs in a website, a 3D printing farm fulfills customers orders.

The LittleArm, cannot do what what it does with any other material. Injection or blow molding would be too heavy or not strong enough. Several of the parts of the LittleArm are literally impossible to create with any other manufacturing process because of the channels, angles, and tunnels in the parts.

And, since 3D printers have been commoditized, there is a very small capital outlay to get the machinery to meet demand, and it is completely flexible. It has the benefit of being useful when the LittleArm is gone. All we will have to do is upload the designs for a new product.

3D printers themselves were never going to be a household item. But 3D printed products will start to become more commonplace, as designers try to use the process as opposed to trying to improve the machine.

Right now 3D printing is stuck creating art or delicate prototypes. But if the process is used correctly it is a powerful tool for lean manufacturing.

It has been said that it just takes a laptop and some time to create a company. That is true with many services and software products. But 3D printing is going to make it true for hardware. And Slant is going to be a part of that.
Powered by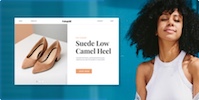 Create your own unique website with customizable templates.